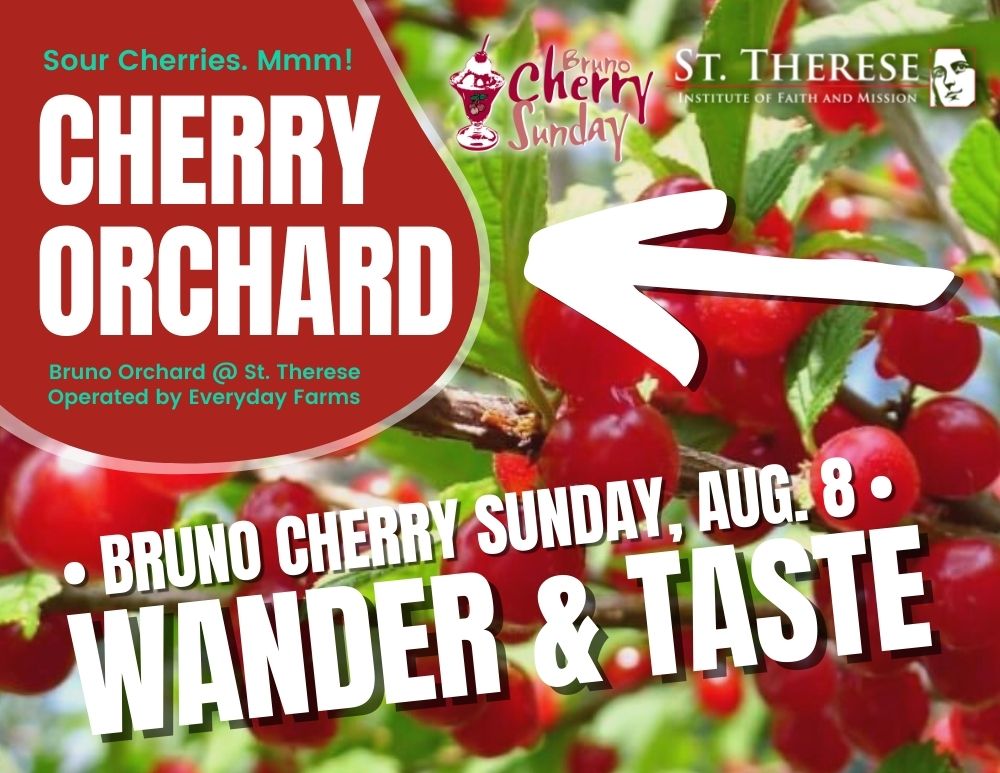 (update: Aug 4) WANDER & free TASTE in the Bruno Sour Cherry orchards during Bruno Cherry Sunday, SUNDAY, AUGUST 8, 8am-5pm.
Due to the lat month of hot, dry weather, the cherries have ripened to the point that Everyday Farms has ended their official U-Picks. Feel free to come and taste through as the cherries are still tasty!
And, if you would like to pick a pail or two, Everyday Farms suggests: BYO-Bucket and consider GIVING A DONATION to St. Therese Institute (on whose grounds the orchards are situated and the Bruno Cherry Sunday are held).
---
Previous Updates:
(update: July 26) ADDITIONAL U-PICK in the Bruno Sour Cherry orchard will be held: FRIDAY, JULY 25 through MONDAY, AUGIST 2, 8 am to dark.
(update July 21) FIRST U-PICK DATE for the Bruno Sour Cherry orchard just announced: SUNDAY, JULY 25, 8 am to dark. More dates to come, including Cherry Sunday, if the crop holds out.
Refresh this page / clear your browser cache to see latest updates.
Details

Category: U-Pick Cherry Orchard
Published: Saturday, 17 July 2021 09:54
Written by Bruno Cherry Sunday
Hits: 2089